Over the weekend, I spent the first half of my Saturday attending the "Recovery and Community: Multiethnic Digital Humanities in 2022" conference at UIC. Outside of the excitement of visiting the place where I got my undergraduate degree, I was also excited to see the speakers on Saturday, Dr. Roopika Risam of Dartmouth College, and Dr. Rebecca Wingo from University of Cincinnati. The theme for the day revolved around what multiethnic, community-based, digital humanities scholarship could look like, with Dr. Risam providing lessons from the Digital Ethnic Futures Consortium (or, as it will be referred to throughout the duration of this blog, DEFCon), and Dr. Wingo showing what a community-led digital project could be using digital tools such as Omeka.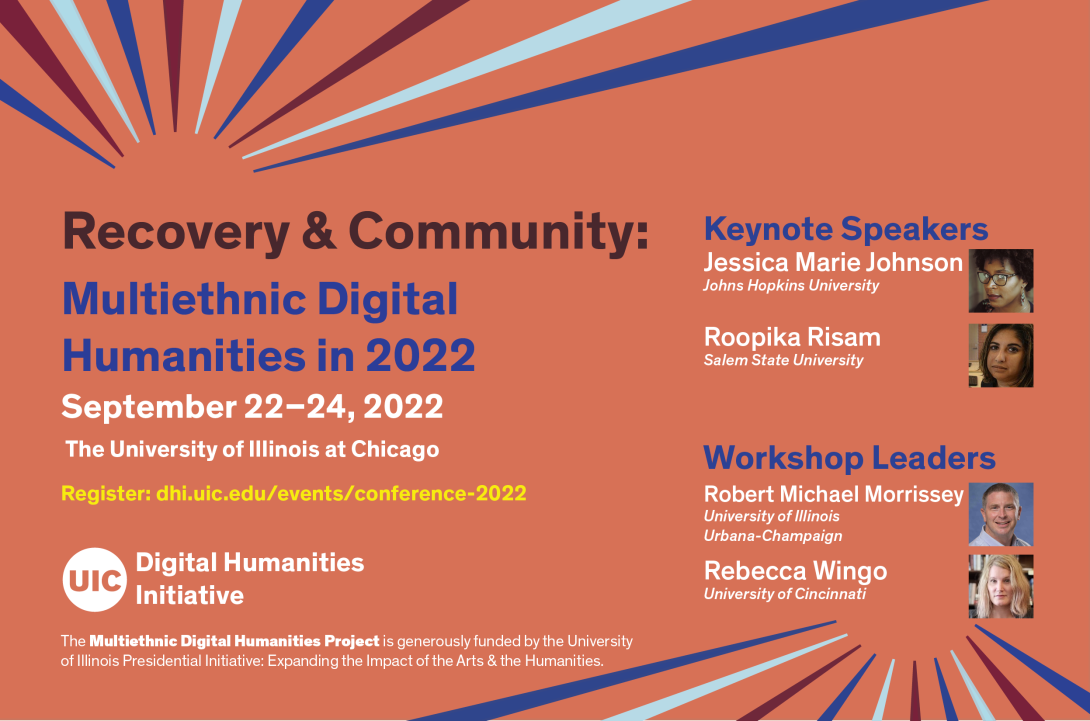 The day began (after all attendees and speakers had been sufficiently caffeinated) with Dr. Risam presenting on DEFCon. Dr. Risam framed her keynote presentation as a series of lessons to be learned with the formation of DEFCon, a consortium of scholars dedicated to resource sharing and community building amongst digital humanists in ethnic studies fields. The first key points surrounded the importance of maintaining the "human" aspect of digital humanities. According to Dr. Risam, while new tech and digital tools will be developed and available, the way to maintain a social justice framework within digital humanities scholarship is to use these tools to supplement the humanities and to provide for the communities we inhabit. Additionally, when developing community-focused digital projects, it is important to focus on what is accessible and what is contributing to the larger ecosystem of digital scholarship. Dr. Risam highlighted the importance of "minimal computing", and how smaller projects with a collaborative focus can be still be incredibly impactful. Finally, the key takeaway points from Dr. Risam's keynote speech revolved around structural inhibitions within the institution. She detailed how the structures of the institutions scholars work in can be the most disruptive when performing scholarship with a community-based social justice framework. In order to remedy these structural issues, Dr. Risam endeavored to create new systems of scholarship with other digital scholars, such as Reanimate, an intersectional feminist publishing collective. Overall, even with discordant institutions to consider, Dr. Risam sees a future in digital humanities that focuses on community needs and creates new methods of project building that don't rely on old and (potentially) hostile models of scholarship.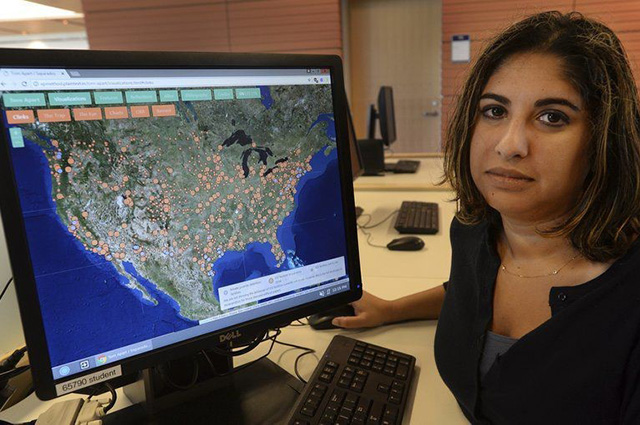 If the purpose of Dr. Risam's talk was to provide lessons on the possibilities of community-based, multhiethnic digital humanities scholarship, the purpose of Dr. Wingo's presentation was to provide a look into what those lessons look like when put into practice. Dr. Wingo grounded her talk by bringing the audience to Rondo Avenue. Rondo is a historically Black neighborhood in St. Paul, MN that was once a bustling center for commerce. However, the community was literally split with the St. Paul government intentionally building I-94 straight through the middle of this neighborhood. The ramifications of this racial violence impacted the community until the present day, which led to the development of the Remembering Rondo project. Remembering Rondo, led by Rondo Avenue, Inc. and Macalester College, used a History Harvest model of ethical, community-based archiving practices in order to create a digital space to archive the histories and artifacts of Rondo community members. The archive was created for Rondo, by Rondo. Dr. Wingo also gave a demonstration on how to use the tools that were needed to create a digital project like this using the History Harvest model. By utilizing Omeka, Dr. Wingo was able to source different "community materials" (such as pictures of the audience's pets), let the community add in what they considered to be relevant metadata, and upload their own archival material. From there, Dr. Wingo added metadata tags as necessary, but overall, the process of selecting what belonged in the archive belonged to the community accessing it. This History Harvest model provides a new way of practicing a digital humanist scholarship that is based in supporting communities using a social justice framework.
These two presentations, in tandem, offered a new way of thinking about digital scholarship. Whereas models of the past relied on extracting from the community to benefit the institution, both Dr. Risam and Dr. Wingo presented a way to provide resources from the institution to benefit the community. As someone interested in data visualizations, I was particularly struck by the creation of a digital map of Rondo's historic businesses. This visualization allowed community members to see where businesses used to call home, and what those addresses look like now. Coming from a background in Gender and Women's Studies, applying a social justice framework to the way I think about and perform scholarship is paramount. The ideas behind creating digital projects based on what they can do for the community rather than extracting from them to benefit the university was something I aspire to apply in my scholarship. Overall, these talks provided a springboard for new models of digital scholarship that I will be taking with me throughout my career.
Check out these scholars' personal sites!